Positive social interactions with your customers on social media lead to the prized testimonial
Your customers are your best salespeople—even in the digital age—but word of mouth travels differently nowadays. A positive online review of your business, especially a negative one, can reach a lot of people—quickly. Platforms such as Facebook, Instagram and Twitter are popular places for customers to leave and read reviews. This can be great for your business. Or it can be devastating.
---
With so much simultaneous conversation going on, how can you be sure social media sheds a positive light on your brand? In short, you can't. You CAN, however, amplify positive reviews by interacting with your customers and utilizing their voice to create productive conversations.
But when we say interact with your customers, we don't mean reply with a generic "Thanks for the review!" We mean really getting to know your audience in a way that is nearly impossible outside of social platforms.
Consumers rely on social media to help them make purchasing decisions they wouldn't otherwise be able to make as easily, and this is something you should be taking advantage of.
TESTIMONIALS IN THE DIGITAL WORLD
According to a 2017 survey of 1,000 consumers by Sprout Social, 65% of consumers share their opinions about a business both online and offline when their social post containing a complaint is ignored by the brand. Eighty-one percent of customers see social media as a platform that makes businesses more accountable. The takeaway?
Your actions on social media are closely scrutinized, and authenticity in your interactions will produce positive experiences for your customers, leading to those crucial testimonials.
Ah, testimonials. Remember those? Back in the day, they were defined as a written or spoken declaration certifying the value and excellence of a product or business. Testimonials worked as a recommendation to purchase from the specified business. Well, the definition hasn't changed. Digital customer reviews work in much the same way, with the key differences being how hard they are to regulate and how much more influential they can be. According to Wyzowl, 95% of people say that reviews – positive or negative – influence their purchasing decisions. In its annual Local Consumer Review Survey, BrightLocal found that 88% of consumers trust online reviews as much as personal recommendations.
So what does this mean? There's a lot at stake when it comes to fostering a good reputation on social media. The good news is that any interaction you have with your customers can be transformed into a beneficial testimonial—if you do it right.
Here are a couple of examples on opposite ends of the spectrum of how to handle social media interactions: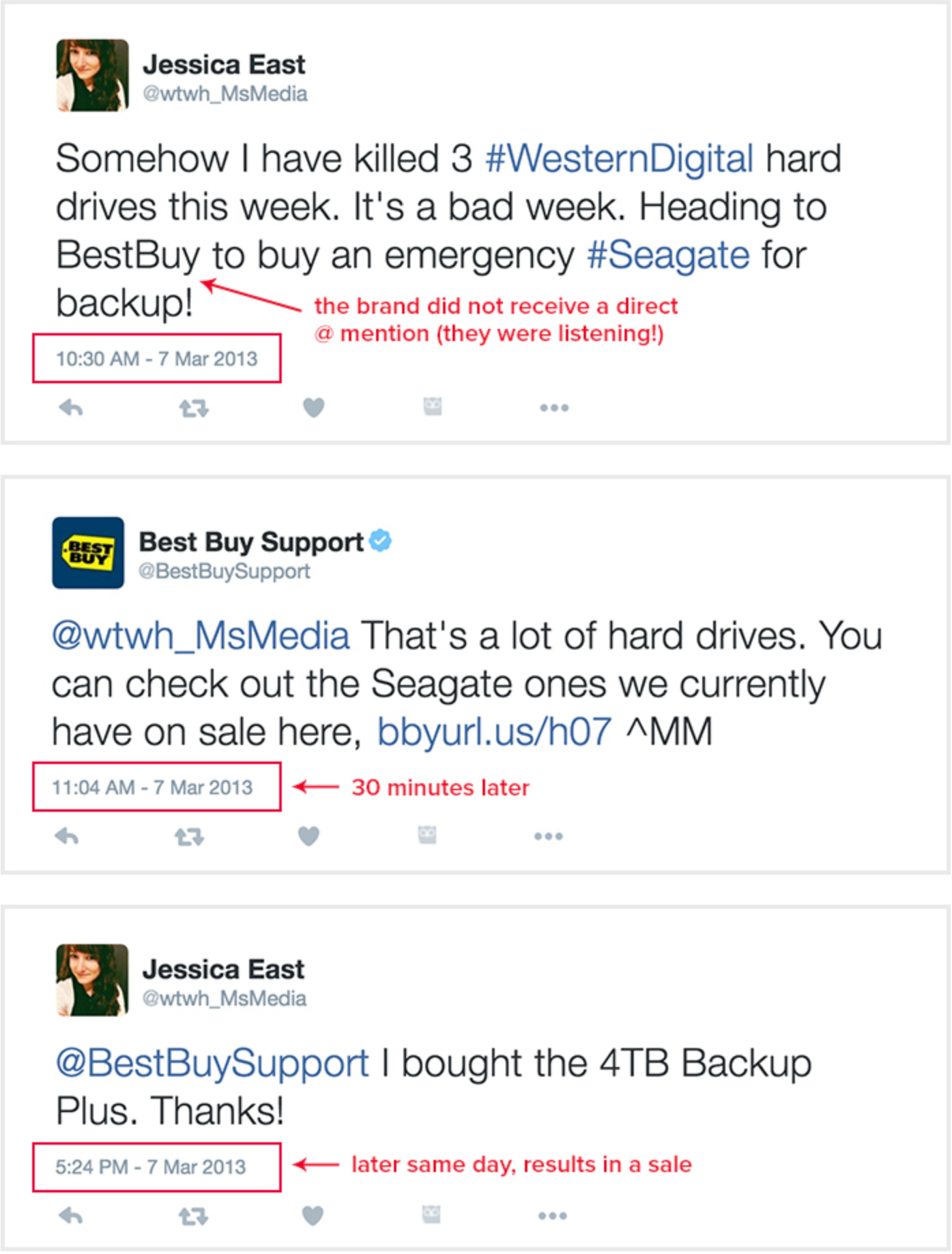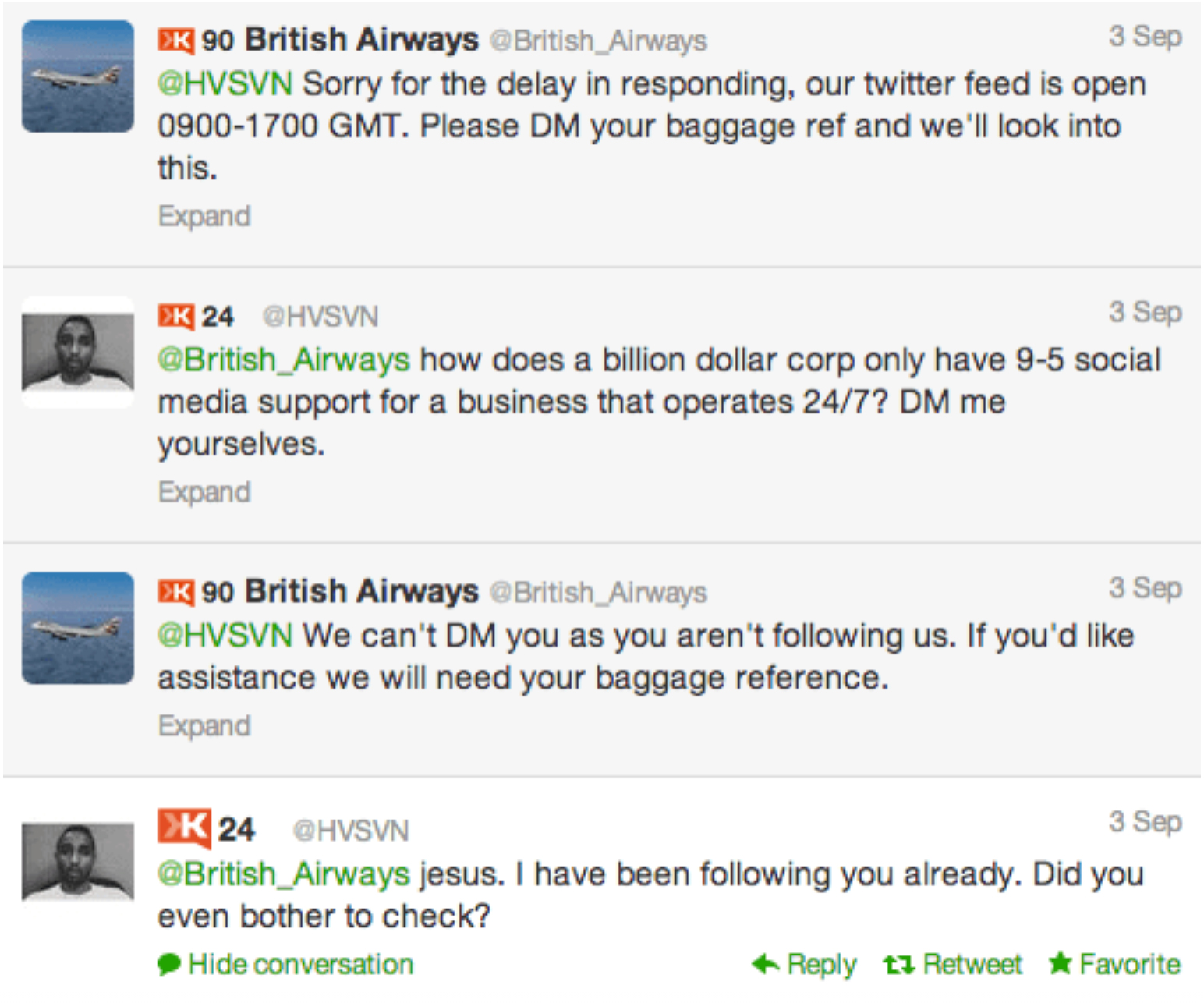 How you react to questions, comments and reviews says a lot about your brand. As you can see, British Airways' interaction isn't organic. The premeditated response only served to make the situation worse. Remember that consumers crave authenticity and for their concerns to be heard, as was the case with Best Buy's alert response.
Make sure your business is sincere, consistent and thoughtful no matter the situation. Doing so will help ensure perception of your brand is positive and that your customers share their great experiences with the world.
INTERACT WITH CUSTOMERS IN AN ORGANIC, MEANINGFUL WAY
Here are 6AM Marketing's recommendations for maintaining consistent customer interaction on social media and leveraging the resulting testimonials:
Never leave your customer hanging. If a customer tags you in a post, chances are they want a reply. You would never ignore someone if they were physically in your store, so don't ignore them online either.
Ask questions. Whether a customer leaves a glowing review or a stinker, be sure to follow up with a question. It can be as simple as "What's your favorite thing about our business?" or "What can we do better?" The social media environment gives you a unique opportunity to communicate directly with your customers, so take advantage.
Be open to feedback. Not everything is going to be positive – and that's OK. Negative reviews on social media give you the chance to make things right in real time. Rather than taking a negative review as a dig at your business, use it to improve.
Spread the word. The best thing about testimonials is that you can use them anywhere. Just because your customer left a great review on your Facebook page doesn't mean it needs to stay on Facebook. Use testimonials on your website, in advertising or anywhere else people can see them.
There is no better way to plan for your excellent brand perception and new customers than by creating engaging content for people to interact with. 6AM can give you the creative and strategic means to reach your customers.
Testimonials are not dead. They are transformed. Word of mouth lives on, albeit in a digital world, and your customers remain the best salespeople for your business. So utilize them, and let 6AM help you reach a bigger audience online.