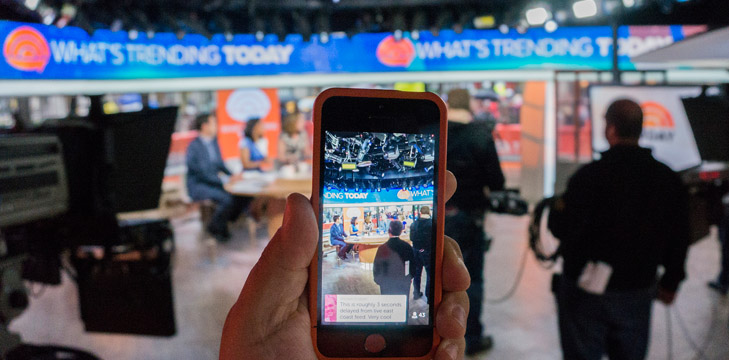 The explosion of smartphones in the marketplace changed a lot about the world we live in today, but from a marketing perspective, it placed a camera in the pocket of millions of people. That camera can be used to capture hundreds of images that can be uploaded directly to your favorite social media sites, or emailed to your colleagues. That camera can also be used to capture and create videos.
---
Short videos can easily be posted to places like Facebook and Instagram, where they can be viewed repeatedly by family and friends. However, the trends in video content are shifting thanks to new advances in video technology. Now the video your smartphone is capturing could also be used to live stream the world around you, and that is creating some very exciting viral moments.
Since Facebook launched its live streaming platform, "Facebook Live" in April 2016, it has disrupted the marketplace in some very unexpected ways. Apart from comedians live broadcasting from their bathtubs (a la Ricky Gervais), Facebook Live continues to find itself making headlines when users utilize the streaming tool to show what they believe are crimes about to be committed or are currently happening. This simple action has not only changed the way the news is gathered and shown to the public, it has also added another layer of oversight when people feel actions against them are unjust.
Another example of how video is upsetting the market, several passengers created a public relations nightmare for United Airlines after they pulled out their phones to record a man being forcibly removed from a plane. These videos were posted to social media immediately after the incident, which created massive public outrage.
For what it's worth, not all live streaming videos are newsworthy in a traditional sense. Candace Payne created history when she live streamed herself opening a Chewbacca mask and trying it on. Her video has received 170 million views, making it the most-watched Facebook Live video of all time, which is crazy considering the majority of the video is of her laughing while wearing the mask.
YouTube also has a live streaming tool, however it's platform isn't as widely used as Facebook's tool, nor has it gained the same word-of-mouth endorsements.
The great thing about YouTube's streaming service is that the video can be embedded on a webpage before the live stream even starts. This is great for marketers because it allows the event organizers to create a central landing page where all your attendees can wait together for the event to start. Add a discussion box on the page, and you've created a captive audience who can chat and network while they wait for the feed to begin. Most recently, Ariana Grande live streamed her One Love Manchester benefit concert over both Facebook Live and YouTube, which allowed millions to not only watch the concert but also donate to the victims of the Manchester Arena terror attack.
Video is a powerful tool that taps into our deep human connection to storytelling. It can create a sense of urgency or a spread the feeling of joy. Brands can and should continue to test the limits of both video and live streaming features to further engage and connect with their target audiences. What do you think of live streaming? Share your thoughts in the comments below!