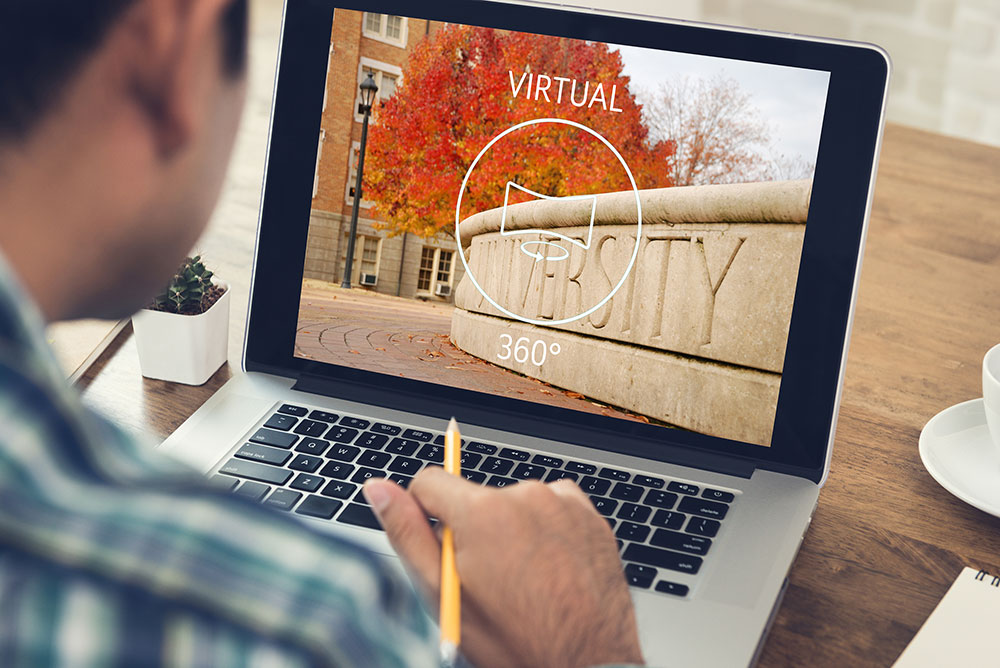 The moment a prospective student first steps foot on your campus can be a special one. A tour of your school … all of the wonderful things it has to offer … seeing new things, meeting new people. Suddenly, it's home.
But what if it can't happen?
---
That's the reality colleges and universities are likely to face as COVID-19 grips the nation and schools are shuttered, removing the campus visit from your recruiting toolbox.
While nothing can replace the experience of seeing a school first-hand, there are strategies you can employ to give prospective students a good feeling of what it's like to attend your school:
GET VISUAL
The best part about a campus visit, of course, is that visitors can see your school. They still can, just not in three dimensions. During this time, ramp up production and promotion of your visual content:
Create new content, such as a high-quality video that speaks to potential students, or fun and energetic mini testimonial videos featuring current students;
Explore new ways to show your campus, such as using a drone;
A virtual tour can be especially effective in substitute of an in-person visit; consider investing in this technology if you haven't done so already;
Post your best images and videos on social media.
USE STUDENT AMBASSADORS
Your students are social media experts. Set them loose with the task of engaging prospective students with storytelling content that shows what a great experience they're having at your school. Your students can detail what it's really like at your school — the fun, personal "behind-the-scenes" stuff that isn't found in brochures or on your website.
TALK ABOUT IT
Some potential students would like to hear about your school, too, from someone who truly understands. Offer them the opportunity to speak with current students and alumni about the things they enjoyed most about attending your school. Be selective, though; choose representatives who are well-spoken, thoughtful and can tell a story.
MULTIMEDIA PRESENTATION
Send invitations to prospective students to participate in a digital presentation that combines all of the above. Feature images and video of your school while providing students the chance to chat with current students and staff and to ask questions. Incorporate a social media element that allows attendees to share what they learned.
It's important to remember that many, if not all, schools will be in the same situation as you. So you're not going to be at a competitive disadvantage. In fact, you should look at this as an opportunity, because if you can come up with creative solutions and thrive in a no-visit environment, you'll get a leg up on the competition.
6AM Marketing can help you do it. We have extensive experience producing results for higher education institutions. For starters, a campaign we created for a Milwaukee school generated more commitments and inquiries in two months than the university had received in the previous three years combined.