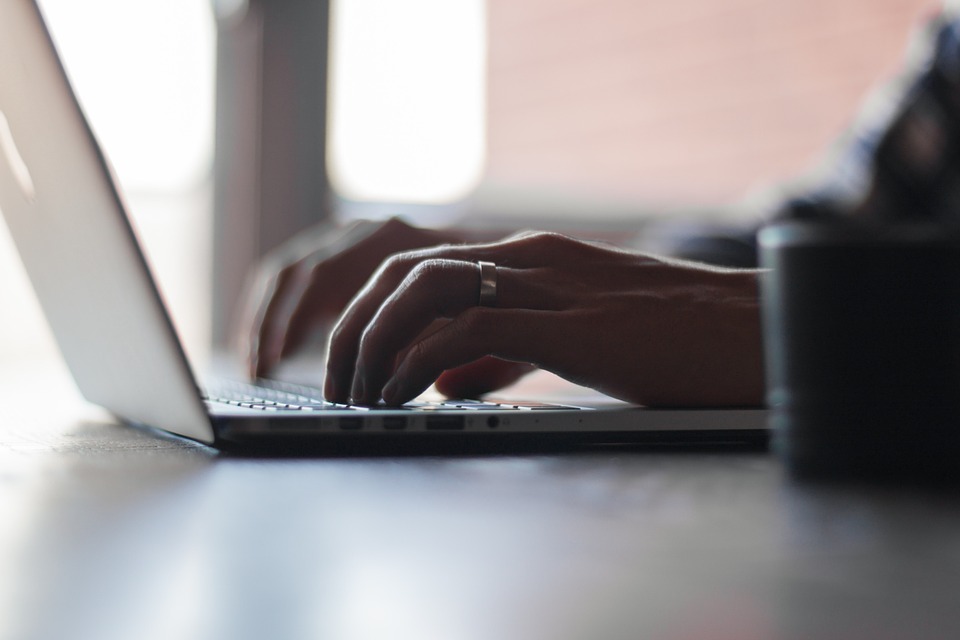 As a healthcare marketer, you are bombarded with digital transformation solutions every day. You use, manage or integrate with CRMs, EMRs, a CMS platform, SEO/SEM, Google Analytics and AdWords and more. It can be as confusing as it is frustrating, but when integrated properly, these tools break down your technology silos and provide greater internal efficiencies with more effective external communications. At the end of the day, without a clear strategy for how to leverage this technology for marketing, it's just a bunch of extra work and a nightmare when comes to reporting.
---
Digital Healthcare Marketing Strategies 101
1. Start with your audience
Great strategy starts with great insights, but market research can be expensive, and hard to come by. The good news is that, while it can take time to develop a thoughtful healthcare marketing strategy, if you have already implemented some of the tools listed above, they can provide you with tons of data you can use right away. Plus, you have other data at your fingertips that can fill in the gaps your platforms might not supply.
Start with one of the most basic—but incredibly helpful—steps: Know your patients and create personas to guide your strategy.
Start with your patient landscape, where possible demographic information includes things like:

Household income
Favorite leisure activities
Commute times
Locations where targets might think about healthcare

Narrow down to the specifics for each target demographic to help you develop audience personas (or profiles)
Determine your audience's major pain points using metrics like surveys
Starting with great research means you're building the right foundation to reach your target digitally, and following these steps for each target ensures that, when your audience sees your ads, it's the right message at the right time for the right person. The ads have a much better chance of making an impact and driving them to action.
2. Determine your goals and objectives
Now that you know who your patients are, you need to decide what you want them to do. What are your goals for your digital healthcare marketing plan? Common goals run from things as simple as awareness to as specific as inpatient visits. Knowing your goals will directly impact the choices you make in terms of tactics and messaging. The strategy behind informing the public about a new clinic opening can be quite different than the strategy needed to reach those considering a knee replacement.
Combining the knowledge of your goals with the personas you've developed can even let you know if digital makes sense for that desired outcome.
3. Decide which tactics and channels to use
Digital means more than just putting together a website. Today's digital healthcare marketing plan needs to take into consideration the many tactics and channels available for the modern healthcare marketer. These include:
Website
Social Media (which divides down even more into Facebook, Instagram, Twitter, Snapchat, etc.)
Email – Inbound & Outbound
Paid Search & SEO
Digital & Mobile Display Ads
PreRoll & Over-the-Top Video
Geo-and Retargeting
Choose the best media outlet for your target using your already-collected programmatic and behavioral data. Take the patient personas and goals you've developed and use those to guide you to the proper channels. Say you're looking to promote your new orthopedics service line. Where does your Baby Boomer looking for a knee replacement find their information? Is it the same for the Millennial athlete? Do you need to focus more on one than the other?
4. Tailor your creative and messaging
One size does not fit all. Our Boomer vs. Millennial orthopedic question is a great example of this. What will resonate with one may not necessarily resonate with the other, though they may overlap. Develop creative based on the pain points you discovered while developing your patient personas.
Nor will the creative you developed for your website as viewed on a desktop necessarily look good as an Instagram post viewed on your mobile device. Be aware what formats and best practices exist for each platform you use.
5. Measure, measure, measure
There's no reason you shouldn't collect the data you generate. Without measuring performance, you have no way of knowing if your plan was successful. Even beyond that, you will have passed on a great opportunity to use what you've learned in future campaigns.
Worried you'll just get more confusing data without any use?
Make Sense of It All with Healthcare Dashboards
Once your digital marketing strategy is up and running, collecting and reporting on data is crucial. Enter the healthcare dashboard.
Healthcare dashboards are great when they are easy to understand. More healthcare organizations are moving to simple visual dashboards, backing that up with more sophisticated, detailed data when needed. Here is part of a healthcare dashboard example from one of our clients (name redacted). The example shows the meaningful metrics for current campaigns, but you can also have a section to track simple items to tell the total story of marketing efforts on a monthly basis. You've already determined your goals and objectives, choose key performance indicators (KPIs) like: inpatient and outpatient visits, likelihood to recommend, clinic visits, earned media, service line visits year-to-date and total patient encounters to give a full picture in an easy-to-understand format.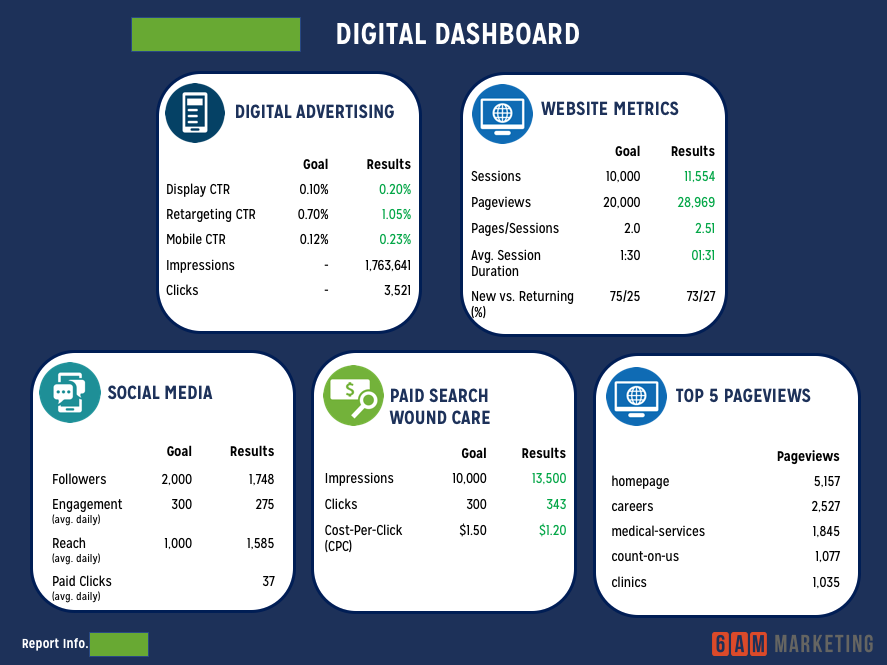 Tips to keep in mind when developing your healthcare dashboard:
Start with one or two critical KPIs to your organization and develop a test to help you dive more deeply into the data
Test one or two things comprehensively, then package that learning using your marketing dashboard into a narrative to show how success can scale across the organization
Prove return on investment (ROI) by partnering with finance to determine cost per patient acquisition across service lines
Creating a healthcare marketing plan based in strong research and real-time data—while still having the emotional pull that draws those all-important new patients—isn't brain surgery. But it does take a considered approach, leveraging your entire team's expertise and the latest digital tools to get the custom results you're looking for. One of the biggest challenges of building your plan is that it will take some time. But when you start to see big results, you'll see it was time well spent.