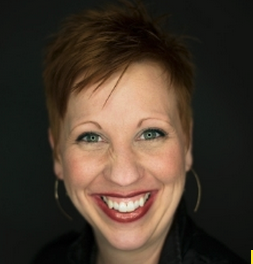 I am a firm believer in taking the road less traveled.
I spent the first 15 years of my career working all over the country as a commercial Interior Designer before transitioning into marketing and advertising. I spent much of my early career designing retail stores, which are all about creating a three-dimensional branded experience. A store is a physical representation of a brand and the products that brand sells, right? I learned a lot about branding.
---
Today when I work with companies on their brand, I think about the tools I employed in the experience as the final payout. We always say, "If you can't LIVE the brand once that customer is through the door—and deliver the experience our advertising sets up—that's on you."
Q: A softball to start: You can steal one advertising campaign from any time in history and claim it as your own idea. Which campaign and why?
A: I am a mom and my child is moving out and going to college, so right now every ad with that experience gets me. Subaru did a great ad with a little girl behind the wheel and before the Dad knows it she is all grown up.
I tear up just thinking about it. AND the Olympics MOM ads were simply wonderful. I love all that emotional storytelling.
Q: What's the most challenging issue facing advertising agencies today?
A: I think many clients don't know that we spend a LOT of time researching, analyzing data and crunching numbers. I mean A LOT. The days of Mad Men are over. Thanks Internet. All this information is important so we can use key insights to inform our strategy and messaging. But it takes time and dialog to get to those key insights.
Q: People are getting more and more savvy about ads and how to avoid them. (Popup blockers, etc.) What does that tell you about advertising and how do we combat it?
A: Technology might give consumers the impression they're blocking ads, but in reality—if you truly take a look around—advertising is everywhere. Product placement, event sponsorships, big and small brands endorsing vloggers on YouTube; as advertisers we just need to stay creative. Advertising is an evolution. If you know where your consumers are, you can stay present to them in creative ways.
Q: How has having to prove return on investment (ROI) affected the way you think about brand strategy and the way you relate to clients?
A: This is a constant challenge for Account Planning and Service within agencies, but even more challenging for our clients.
We live in a world where there are tactics that can be measured 100% of the time, and tactics that are still not really measurable, i.e. digital display ads vs. TV. My approach has always been to start with the key business strategy and identify the goals for a project first. Once a team can clearly articulate what we're all trying to achieve, it makes the process a bit easier.
That being said, CEOs and CFOs are constantly trying to get more from less, and the pressure is always on to prove marketing worked. Strategy is more important today than ever before. I always say, just because you can measure something doesn't mean you should.
Q: If you could change one thing about the current direction of marketing what would it be and why?
A: I would love to roll back our attention spans to greater than five or six seconds. Our attention spans have now been proven to be shorter than a gold fish, YIKES.
Everyone is addicted to their screens and we seem to have lost a sense of authenticity and intimacy. You can say and be whoever you want online.
At the same time, I am more excited than ever about how technology is changing our lives and starting to seamlessly assimilate into our daily routines. With VR and AI this will continue to evolve. I would love to be able to produce advertising that felt as seamless it has been depicted in science fiction. That would be challenging and fun.
Q: How does 6AM do things differently?
A: The best messaging is derived from two things, strategy and insight.
We start with business goals and strategy. If we don't understand how the business works, why they need or want advertising and what they are trying to achieve our work will be meaningless. Couple that with great insights—consumer, business and competitive—and you can't go wrong.
With these tools we can create the most powerful and meaningful messaging that will resonate deeply with consumers B2B or B2C. Our Creative Director always says "What you say will always be more important than where you say it," meaning, if you create smart strategic messaging informed by insights, then that will always trump flooding the market with ads.
This is a very exciting time to be in the field of marketing and advertising. I learn something every day from our clients, our partners, and our employees. We work really hard to push the envelope of what is expected. If you would like to check out some of our work and results see our case studies.