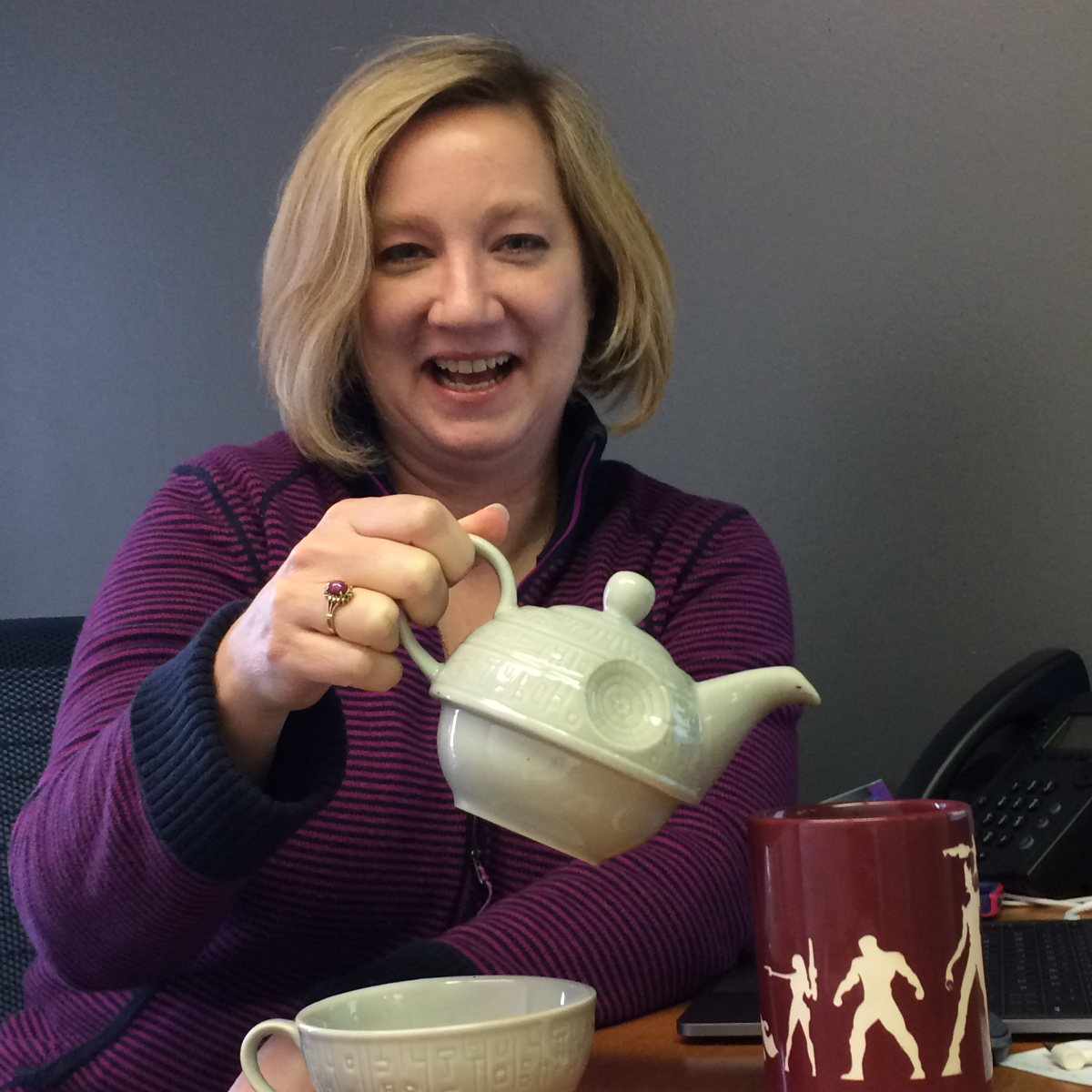 Sherry took her time getting to the advertising business. Her winding road has led to, among other things, stints in travel and sales, her own real estate investment business, an MBA and a degree in drawing & painting. Sherry believes that good advertising starts with a solid partnership between agency and brand and spends a lot of time finding the connection that sparks a great team.
A dyed-in-the-wool sci-fi/fantasy geek, Sherry spends her spare time reading, Netflix binging with her husband and writing bad romance novels. She sees no reason why you can't love both Star Wars and Star Trek and can't prove that her last home wasn't haunted.
---
1. You've had some very interesting stops along the path of your career. How did you end up in marketing?
In certain respects, I have no idea. I'm kind of a hold-your-breath-and-jump person, so if the opportunity seems right I take it. I once got a job by chatting with a lady who sat by me at an auction of Chinese art and artifacts.
Seriously though, I've always had an affinity for the arts and creatives, but learned long ago that I don't have the mania needed to be a working artist (and I don't like instant Ramen every night). I naturally gravitate toward industries that have a strong creative component. Marketing is a great blend of solving business problems with truly creative solutions—it satisfies both my need for logical thinking and my desire to be creative.
2. What do you see as the biggest need for most potential clients? (What marketing issues keep coming up?)
Mostly, they know what they want but not what they need. Everyone wants to grow as fast as possible. They go looking for that silver bullet that will make it rain gobs of money and fame. They want a viral video, or to catch the eye of a popular influencer or the magazine ad that will turn it all around.
They need to know who their client/customer actually is. They need to know where that customer is and how to talk to them. They need a solid strategy to overcome whatever business problem they have. I guess the biggest need is an agency that they trust enough to help them solve their issues instead of just ordering up two commercials and an endorsement from the influencer du jour.
3. What's the most exciting part of your job?
How nerdy is it that I get a kick out of the research? I love finding that one insight or connection that tells me a prospect needs our help. Something that speaks to our strengths. Starting a conversation knowing that something really good can come out of it is very satisfying.
4. What types of clients are a good fit for 6AM?
We want to work with clients that are interested in finding real solutions. We're not a shop that cranks out ads with no thought behind them. Our clients care about measurement, digging into who their customers are and making work that engages with those customers.
And they're nice people. We're nice people, too.
5. In what ways do online and digital tools help you? In what ways do they hurt? (Do you like digital connectivity? Do you miss face-to-face conversation? Does it change how you do business?)
I am all about using time-saving tools. It can take ages to hunt down the phone number of a prospect or find that nugget of information that makes a connection. Anything that cuts down my research time I want to use. Anything that helps me filter out those who won't be a good fit is great. I don't want to waste anyone's time or bother them with information that is irrelevant to their business.
Digital connectivity hasn't changed the how we do business so much as the where. It's no longer out of the realm of possibility to talk to someone outside of the Midwest, and be able to form a good relationship and do business with them.
6. How does 6AM think differently?
I think the biggest difference is we embrace being small—it's an advantage. A lot of companies don't realize there's great work out there being done by small agencies.
Having a small office means there are no silos, no "B team." We have less overhead and it doesn't take weeks of trying to get meetings with dozens of people to make decisions. If a project comes along and we need to expand, we've got a huge number of partners we can bring in. We fit right in with today's gig economy.